Want to Learn More?
If you are interested in learning more about Sheep Dog Impact Assistance, Boulder Crest Foundation, Warrior PATHH, PTG and related topics, please click on the links below. This list of resources will be updated whenever new resources are identified.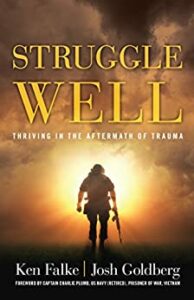 Your struggle may come in different forms, and be given one of many different names, such as anxiety, depression, addiction, and/or PTSD. No matter how much you or a loved one is struggling, or what it is called, one thing is almost certainly clear: you aren't living the life you desire or deserve. Still, there is hope. By embracing the struggle, rather than fighting it, you can stop surviving and start thriving.
Ken Falke and Josh Goldberg train combat veterans battling PTSD to understand and achieve Posttraumatic Growth (PTG). PTG helps you discover opportunities from times of struggle, and this book provides actionable strategies for making peace with past experiences, living in the present, and planning for a great future.
Through Ken and Josh's work, thousands have transformed struggle into profound strength and lifelong growth. Now it is your turn. It's time to learn to Struggle Well.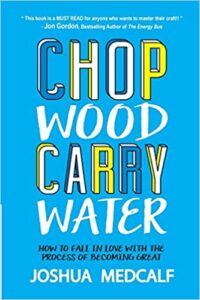 Guided by "Akira-sensei," John comes to realize the greatest adversity on his journey will be the challenge of defeating the man in the mirror. This powerful story of one boy's journey to achieve his life long goal of becoming a samurai warrior, brings the Train to be Clutch curriculum to life in a powerful and memorable way.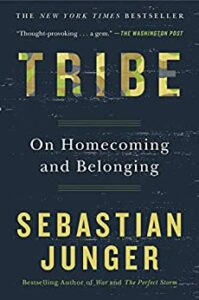 We have a strong instinct to belong to small groups defined by clear purpose and understanding–"tribes." This tribal connection has been largely lost in modern society, but regaining it may be the key to our psychological survival.
Tribal society has been exerting an almost gravitational pull on Westerners for hundreds of years. The most recent example of that attraction is combat veterans who come home to find themselves missing the incredibly intimate bonds of platoon life. The loss of closeness that comes at the end of deployment may explain the high rates of post-traumatic stress disorder suffered by military veterans today.
Combining history, psychology, and anthropology, Tribe explores what we can learn from tribal societies about loyalty, belonging, and the eternal human quest for meaning. It explains the irony that-for many veterans as well as civilians-war feels better than peace, adversity can turn out to be a blessing, and disasters are sometimes remembered more fondly than weddings or tropical vacations. Tribe explains why we are stronger when we come together, and how that can be achieved even in today's divided world.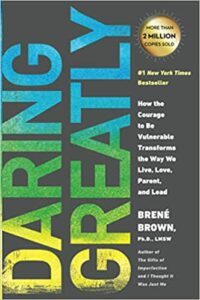 Every day we experience the uncertainty, risks, and emotional exposure that define what it means to be vulnerable or to dare greatly. Based on twelve years of pioneering research, Brené Brown PhD, LMSW, dispels the cultural myth that vulnerability is weakness and argues that it is, in truth, our most accurate measure of courage.
Brown explains how vulnerability is both the core of difficult emotions like fear, grief, and disappointment, and the birthplace of love, belonging, joy, empathy, innovation, and creativity. She writes: "When we shut ourselves off from vulnerability, we distance ourselves from the experiences that bring purpose and meaning to our lives."
Daring Greatly is not about winning or losing. It's about courage. In a world where "never enough" dominates and feeling afraid has become second nature, vulnerability is subversive. Uncomfortable. It's even a little dangerous at times. And, without question, putting ourselves out there means there's a far greater risk of getting criticized or feeling hurt. But when we step back and examine our lives, we will find that nothing is as uncomfortable, dangerous, and hurtful as standing on the outside of our lives looking in and wondering what it would be like if we had the courage to step into the arena—whether it's a new relationship, an important meeting, the creative process, or a difficult family conversation. Daring Greatly is a practice and a powerful new vision for letting ourselves be seen.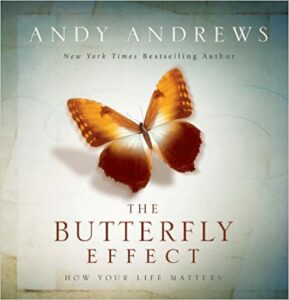 The decisions you make and the way you treat others have more impact than you may ever realize.
Speaker and New York Times best-selling author Andy Andrews shares a compelling and powerful story about a decision one man made over a hundred years ago, and the ripple effect it's had on us individually, and nationwide, today. It's a story that will inspire courage and wisdom in the decisions we make, as well as affect the way we treat others through our lifetime. Andrews speaks over 100 times a year, and The Butterfly Effect is his #1 most requested story. 
Also included with the purchase of the book is a link to view a 9-minute message of Andrews telling The Butterfly Effect story to a live audience.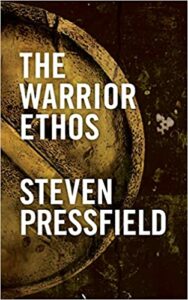 WARS CHANGE, WARRIORS DON'T We are all warriors. Each of us struggles every day to define and defend our sense of purpose and integrity, to justify our existence on the planet and to understand, if only within our own hearts, who we are and what we believe in. Do we fight by a code? If so, what is it? What is the Warrior Ethos? Where did it come from? What form does it take today? How do we (and how can we) use it and be true to it in our internal and external lives? The Warrior Ethos is intended not only for men and women in uniform, but artists, entrepreneurs and other warriors in other walks of life. The book examines the evolution of the warrior code of honor and "mental toughness." It goes back to the ancient Spartans and Athenians, to Caesar's Romans, Alexander's Macedonians and the Persians of Cyrus the Great (not excluding the Garden of Eden and the primitive hunting band). Sources include Herodotus, Thucydides, Plutarch, Xenophon, Vegetius, Arrian and Curtius–and on down to Gen. George Patton, Field Marshal Erwin Rommel, and Israeli Minister of Defense, Moshe Dayan.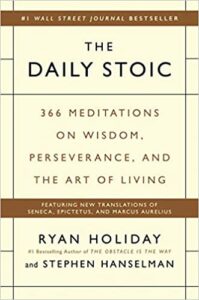 Why have history's greatest minds—from George Washington to Frederick the Great to Ralph Waldo Emerson, along with today's top performers from Super Bowl-winning football coaches to CEOs and celebrities—embraced the wisdom of the ancient Stoics? Because they realize that the most valuable wisdom is timeless and that philosophy is for living a better life, not a classroom exercise.
The Daily Stoic offers 366 days of Stoic insights and exercises, featuring all-new translations from the Emperor Marcus Aurelius, the playwright Seneca, or slave-turned-philosopher Epictetus, as well as lesser-known luminaries like Zeno, Cleanthes, and Musonius Rufus. Every day of the year you'll find one of their pithy, powerful quotations, as well as historical anecdotes, provocative commentary, and a helpful glossary of Greek terms.
By following these teachings over the course of a year (and, indeed, for years to come) you'll find the serenity, self-knowledge, and resilience you need to live well.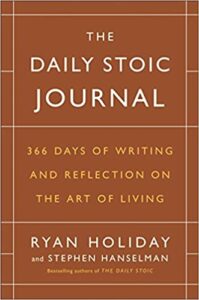 Now Holiday and Hanselman are back with The Daily Stoic Journal, a beautifully designed hardcover journal that features space for morning and evening notes, along with advice for integrating this ancient philosophy into our 21st century lives. Each week readers will discover a specific powerful Stoic practice, explained and presented with related quotations to inspire deeper reflection and application, and each day they will answer a powerful question to help gauge their progress.
Created with a durable, Smyth-sewn binding and featuring a helpful introduction explaining the various Stoic tools of self-management, as well as resources for further reading, this is a lasting companion volume for people who already love The Daily Stoic and its popular daily emails and social media accounts. It can also be used as a stand-alone journal, even if you haven't read the previous books.
For anyone seeking inner peace, clarity, and effectiveness in our crazy world, this book will help them immensely for the next year—and for the rest of their lives.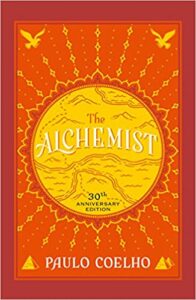 Paulo Coelho's enchanting novel has inspired a devoted following around the world. This story, dazzling in its simplicity and wisdom, is about an Andalusian shepherd boy named Santiago who travels from his homeland in Spain to the Egyptian desert in search of treasure buried in the Pyramids. Along the way he meets a Gypsy woman, a man who calls himself king, and an Alchemist, all of whom point Santiago in the direction of his quest. No one knows what the treasure is, or if Santiago will be able to surmount the obstacles along the way, but what starts out as a journey to find worldly goods turns into a meditation on the treasures found within. Lush, evocative, and deeply humane, the story of Santiago is art eternal testament to the transforming power of our dreams and the importance of listening to our hearts.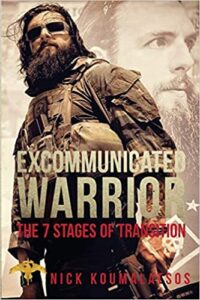 As human beings, we will inevitably go through a life-changing event at some point in our life. It could be losing a job of 20 years, finalizing a divorce, being forced to retire early because of an injury, or leaving the military. These life-changing events can have disastrous effects on us and the people around us. Some of us never work through these events and end up unhappy and stuck in life. This happened to Nick when he left a 12-year career as a Marine Raider with the Marine Corps Special Operations Unit. For years, he was stuck with feelings of anger, indifference, and bitterness. Until he finally decided to take action and apply the skills he learned as a Raider and got to work on solving his personal problems.  
The Excommunicated Warrior takes you through the journey of Nick's transition out of the Special Operations as he attempted to reintegrate into the civilian world. Through this journey, he identified 7 different stages of transition. 
Nick quickly realized that these 7 stages were something most veterans had to go through and he launched a non-profit that focused on helping the nation's veterans transition out of the military. Soon, Nick started developing steps to work through the stages, all aimed at the military community. However, through various speaking engagements, it became clear that Nick's ideas about the 7 stages of transition applied to anyone, not just veterans. The stages applied to anyone that had gone through a life-altering event. This book outlines the 7 stages and how you can use them in your life. In short, the book is for anyone who has gone through a life-changing event and refuses to be a victim of circumstance. Anyone who decides to never quit, never surrender, and always move forward.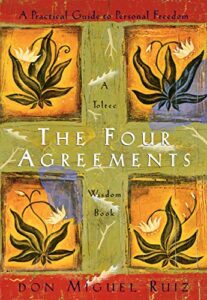 In The Four Agreements, don Miguel Ruiz reveals the source of self-limiting beliefs that rob us of joy and create needless suffering. Based on ancient Toltec wisdom, The Four Agreements offer a powerful code of conduct that can rapidly transform our lives to a new experience of freedom, true happiness, and love.
• A New York Times bestseller for over a decade
• An international bestseller translated into 46 languages worldwide
"This book by don Miguel Ruiz, simple yet so powerful, has made a tremendous difference in how I think and act in every encounter." — Oprah Winfrey
"Don Miguel Ruiz's book is a roadmap to enlightenment and freedom." — Deepak Chopra, Author, The Seven Spiritual Laws of Success
"An inspiring book with many great lessons." — Wayne Dyer, Author, Real Magic
"In the tradition of Castaneda, Ruiz distills essential Toltec wisdom, expressing with clarity and impeccability what it means for men and women to live as peaceful warriors in the modern world." — Dan Millman, Author, Way of the Peaceful Warrior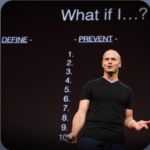 TED Talk – Why You Should Define Your Fears Instead of Your Goals by Tim Ferriss
The hard choices — what we most fear doing, asking, saying — are very often exactly what we need to do. How can we overcome self-paralysis and take action? Tim Ferriss encourages us to fully envision and write down our fears in detail, in a simple but powerful exercise he calls "fear-setting." Learn more about how this practice can help you thrive in high-stress environments and separate what you can control from what you cannot.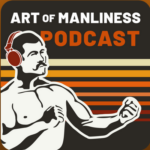 EPISODE #505: A Man's Need for Ritual
For thousands of years, men's lives were structured by rituals — rituals that helped them mark significant events, make sense of the world, and move from one phase of life to the next.
In our modern age, our lives are largely devoid of rituals, and my guest today says we're worse off for it. His name is William Ayot, and he's a poet, men's group facilitator, ritual leader, and the author of Re-Enchanting the Forest: Meaningful Ritual in a Secular World. We begin our conversation discussing William's introduction to the power of ritual, why rituals have declined in Western culture, and what makes a ritual, a ritual. We then discuss the history of the mythopoetic men's movement kickstarted by Robert Bly and his book Iron John. William then unpacks why it's important for men to undergo a rite of passage, why it's never too late to participate in one, and how men can have multiple rites of passage over their lifetime. We discuss how to give your son a rite of passage as well. William also provides some ideas for daily rituals you can incorporate in your life to provide more meaning and enchantment to existence. We end our conversation with William's advice on how to get started with a men's group.
Get the show notes at aom.is/ritual.
See omnystudio.com/listener for privacy information.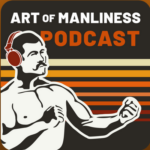 EPISODE #527: A Father's Wounds, Male Spirituality, and the Journey to the Second Half of Life
How does the way men experience spirituality differ from the way women engage it? What obstacles particularly keep men from experiencing greater meaning in their lives, and what paradigm shifts help them find it?
My guest today has been thinking about those questions over the six decades he's served as a Franciscan friar. His name is Richard Rohr, and he's authored numerous books and devoted a significant part of his vocation to working with men — both ministering to those who are incarcerated, and in leading male initiation rituals and retreats.
If you enjoyed my discussion last month with David Brooks about life's first and second mountain, you'll want to listen to this one. Father Rohr has long taught the same concept, arguing that life is divided into a first and second half. We begin our discussion by exploring the difference between these two halves, and what it takes to move to the second half of life, including embracing non-dualistic thinking. We also talk about what prevents men from maturing into the second half of life, including having "father wounds." We then discuss how male spirituality differs from female spirituality, why church doesn't appeal to men, the male need for initiation, and what it means to do shadow work. We end our conversation with what fathers can do to help their sons embrace the spiritual side of life.
Get the show notes at aom.is/rohr.
See omnystudio.com/listener for privacy information.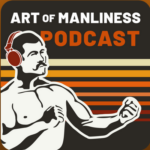 EPISODE #660: How the Ancient Greek Tragedies Can Heal the Soul
When you think about ancient Greek tragedies, you probably think about people in togas spouting stilted, archaic language — stories written by stuffy playwrights to be watched by snooty audiences.
My guest today argues that this common conception of Greek tragedies misses the power of plays that were in fact created by warriors for warriors, and which represent a technology of healing that's just as relevant today as it was two millennia ago. His name is Bryan Doerries and he's the author of the book The Theater of War, as well as the artistic director of an organization of the same name that performs dramatic readings of ancient tragedies for the military and other communities. Bryan and I begin our conversation with what tragedies are, what this civic, religious, and artistic form of storytelling was supposed to do, how it was created by war veterans for war veterans, and how a civilian classicist ended up putting on these plays for current and former members of our modern military. We discuss how the ancient Greek tragedies depicted the depth and spectrum of human suffering, the intersection of fate and personal responsibility, characters who belatedly discover their mistakes, and the fleeting chance of changing behavior in the light of such realizations. Bryan also explains how the tragedies may have been a form of training for young people on how to grapple with the moral ambiguities that mark adulthood. And throughout the show, we dig into how tragedies, by showing people they're not alone, getting them to confront uncomfortable realities together, and bridging divides, can serve as a transformative technology for collective healing, not only for military veterans, but anyone who's dealt with trauma, loss, and the general confusions and hardships of the human experience. 
Scroll down the Podcast page to read the transcript of the show.
See omnystudio.com/listener for privacy information.